A Sarcastic Quote – There Is A Chance You Could Lose Too
Sarcastic Quote:
If we are the only intelligent life in the universe, at least there's a finite number of idiots.
Sometimes I need what only you can provide: your absence.
Creative Poem Ideas
This is a list where to add places that have poems on them or have tips on how to write your own poems for that special someone. Enjoy and Have Fun!!
Oct 06, 2013 - love-poems.me.uk -

215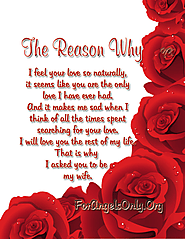 Love poems? So do we! A comprehensive resource from Love Poems dedicated to providing the Biographies, Pictures and famous Love Poems of the most famous Poets - A perfect addition for romantic birthday cards. Use the text from a famous love poem for a romantic birthday surprise...
Regards,
~ Holley Jacobs